What can we learn from the Brexit negotiations.
The UK are now 18 months following the referendum on Brexit of June 22nd 2016. January 2018 will see the official start of phase two of the negotiations. This means that negotiations will focus on the future trading relationship between the UK and the EU.
As the Brexit negotiations play out on the European stage, what can we learn? Interestingly the negotiations are following classic Win / Win negotiation methodology. I wrote a blog in June 2017 on Negotiation explaining this methodology in more detail.
Detailed below are some classic examples. These examples illustrate how the Win / Win Brexit negotiations methodology has played so.
Who holds the power?
From where I am sitting this appears to be the EU. Negotiations are proceeding against the EU's criteria. First the divorce bill, then EU citizens' rights, then the Ireland question. The UK tried to commence trade negotiations at the initial stages. This just didn't happen.
Use of a deadline to achieve agreement and / or concessions.
This was demonstrated when Teresa May left London on a 4am flight  to agree to the terms of phase one.
Teamwork.
Media reports give the impression that the UK Conservative Party is not unified and not working together as a team. This weakens the negotiators position.
Preparation.
What about Gibraltar? What about the financial impact assessments on the UK? David Davis stated that these had not been carried out in front of a Parliamentary select committee in December. The UK entered the negotiations unprepared.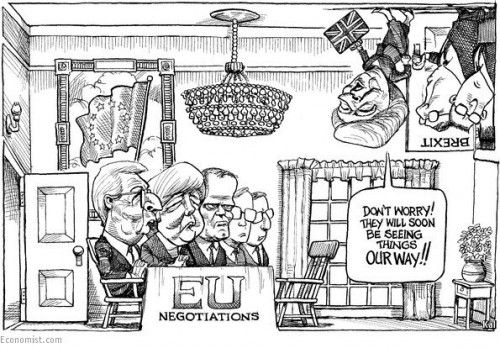 Partial agreement creates an impression of progress.
This was evident in the 'non-legally binding' agreement document required to get DUP support on the Irish question.
These are all classic negotiation traits. Keep watching, there is certainly more to follow.
Learning about negotiations
What can sales people learn from all of this? The answer is lots. We negotiate every day with new and existing clients. Understanding buyer tactic can help us win more business and protect our margins.
If you need help in understanding why my business needs CRM, maybe some of our  eBooks could help! Alternatively visit Maximizer CRM for more information. Contact us today in Belfast on 028 9099 6388 or at our Bedford office on 01234 214004. Alternatively email us on info@proaptivity.com. Contact us today for a free CRM consultation that will assess if your business is CRM ready.