A charity CRM system is the secret behind many successful fundraising organisations and campaigns. With the ability to collect and house all relationships together in one place – complete with features for analysis, reporting and automation – CRM can be far more valuable than just a platform to store and organise donor data.
The best CRM services for charities offer benefits like:
Donor segmentation for more targeted communications

Effective fundraising campaign management

Quick and accurate reporting on programme activities and impact
Not only this, many charities have found that through these business and data intelligence tools – their fundraising strategy can be more tailored – helping them perform better, save time, as well as drive donor engagement and retention.
Why ProAptivity Offers the Best CRM for Charities
At ProAptivity, our CRM solutions offer charities tremendous functionality, acting as a powerful platform to boost organisational productivity and constituent insight. With our CRM systems for charities, you can achieve enhanced stakeholder engagement through improved communication. 
Our charity CRM also acts as a great accountability tool, helping to aid compliance throughout the organisation inline with good governance practice.
Not only does our charity CRM increase internal productivity and improve stakeholder satisfaction, it also:
Centralises data across various teams

Creates a single client view – the cornerstone of unified and intelligent customer management, delivering that all-important added value

Analyses activities – providing better visibility and control over business data

Allows charities to be more strategic by having real-time business intelligence and management reporting that help aid better decisions
CRM Consultants for Charities
ProAptivity is not just a CRM software company that focuses on implementation. We also specialise in CRM consulting services, where we empower charities to maximise their use of CRM to boost their ROI in innovative ways. 
Through this service, we can help charities strategise to ensure they are selecting and installing only the best CRM solution in order to meet their aims and objectives. From here, we can also provide training so that all team members feel comfortable and confident – helping the organisation guarantee future success.
For more information on our CRM software for charities, or to request a free trial, contact the ProAptivity team today. 
8 Best CRM for Charity Organisations
For-profit or non-profit, CRM systems are always an important part of any organisation!
The importance of CRM for charity organisations lies not only in coordinating the work process but also in leveraging their efforts. 
In this article, we will show you how non-profits organisations use CRM, the benefits these organisations reap from them, as well as list the 8 best CRM systems for charity organisations.
For-Profit Vs Non-Profit CRM
CRM, as known by most people, stands for 'Customer Relationship Management' systems. While this is true for for-profit companies, non-profit organisations do not have customers per se. Thus, non-profit CRM stands for 'Constituent Relationship Management'.
A non-profit CRM is the equivalent to a charity database or a donor management system. It organises donor data, identifies donor trends, and makes recommendations to increase the chance of receiving future donations.
Since non-profit and for-profit CRMs are used in somewhat a similar way, some CRM systems are suitable for both types of organisations. However, it is for the best to have a system that is solely dedicated to your organisation.
How Do Charity Organisations Use CRM Systems?
Non-profit organisations use the CRM systems as their central database. This database is used to manage the organisation's contacts, donors, and other benefactors.
A CRM for charity organisations is a type of donor management software. It helps charity organisations understand and leverage their relationships with donors.
With the use of CRM systems, charitable organisations are able to not only track the donations they receive – but also gather information about the donors themselves.
The data collected by the CRM are then analysed so these organisations can decide where to allocate their budgets. Moreover, data and analytics help charity organisations better target their audience to increase donations.
Why Use a CRM for Charity Organisations
While the cost of getting a CRM system for your charitable organisation might discourage you, the benefits of such a system are truly endless:
Charity CRM Saves You Time
Time is very valuable – especially in managing a whole organisation! What if we told you that CRM could help you leverage your time to the fullest? Let's see how:
Looking for a donor's number or volunteer information would take a long time when data is all over the place. This is because unorganised data is not easily accessible. Organising all of the data in one place would make these tasks much easier and faster.
Moreover, every organisation needs reports to measure their progress and decide on next steps. And while Excel could get the job done – such a task would be very time consuming. Not to mention the hassle you need to go through to get a report off Excel and interpret the results.
With a CRM system, you will be able to access the information you need with a click of a button. Furthermore, reports based on real-time data are available all the time for you to grab.
This will allow you and your team to do more tasks in a short amount of time. Is this not what every charity organisation dreams of?
Charity CRM Leverages Your Donations
Believe it or not, CRM actually saves you money!
When talking about CRM for charity organisations, most decision-makers at organisations think about the money they will spend on the system. However, they do not consider the value the organisation would enjoy when getting a charity CRM.
Money spent on charity CRM must be taken into consideration of course. At the same time, it needs to be thought of as an investment. The benefits you will reap from the system will most definitely outweigh the money you are putting into it.
With no CRM, you are most likely going to miss out on major touchpoints in the donation process. That, in turn, would cause you to lose potential donations. So, to put it simply, charity CRM allows you to track the donation process, making sure that you take care of all potential prospects.
The financial gains are one of the biggest motivations for non-profit organisations to get a charity CRM. Even though they pay for the CRM system, the money they end up receiving in donations exceeds what they used to get prior to having the system.
So, investing some of the donations you get in a good CRM system is not a waste of money. On the contrary, such a practice will end up getting your organisation even more donations.
Charity CRM Utilises Your Data
Another benefit of using a charity CRM is utilising your data to the fullest!
Keeping your data organised all the time is hard. With a CRM system, your data won't only be organised in one place – but it will also be easily accessible. 
By keeping all the data in one place, this will allow you and your staff to frequently check it. This way, data does not get lost or forgotten, and is always the center of attention – making it easier to remember follow-ups and identify donor trends.
Charity CRM means you're maximising the potential of your data, increasing the likelihood of receiving future donations.
As you can see, a charity CRM greatly benefits your non-profit organisation. Let's give you some tips on choosing the right CRM for your organisation: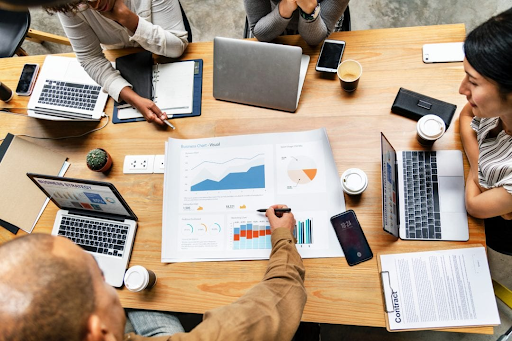 How to Decide on a Charity CRM
Managing a non-profit organisation with no CRM system is quite difficult. The data will be spread everywhere. Your phone will be full of donors' phone numbers, volunteers' information will be sorted in spreadsheets – and you might even have a couple of notebooks full of addresses and phone numbers..
Scaling an organisation is not possible in these circumstances. However, all that mess would be organised once you start using a reliable CRM system. But, with all the different CRM systems out there, how do you choose a reliable CRM system for your charity organisation?
Here are some points to take into consideration when choosing a CRM for your organisation:
1. Who Will be Using the Charity CRM?
One of the most important things to take into consideration is the staff members who will be using the system. The number of users usually decides the cost of the system, as there is a price for each user seat.
Knowing the number of users early on will help you choose the CRM system that best fits your budget. It will also allow you to know what CRMs are way out of your budget from the beginning.
2. How Many Constituents are There?
The number of users is not the only thing you need to know. Counting the number of donors and volunteers you have also helps you pick the charity CRM that best suits your needs.
Charity CRM is short for 'Constituent Relationship Management' for a reason. It contains vital data about your donors and other key constituents. The number of your constituents will also affect the price of the software. 
Some non-profit CRM software allow you to store multiple types of constituents, such as donors, members, and volunteers. For that reason, keep in mind the different types of supporter profiles you need to create.
3. What Information Do You Want to Track?
Are you only going to track the general information of your constituents? Or do you want to track other specific pieces of information?
The answers to these questions will help you choose between an all-in-one CRM, or a bespoke CRM system that only tracks your constituents. So, the choice will be between a CRM that includes the option to track volunteers and staff as well, or that also includes fundraising management as part of the platform.
4. How Fast Do You Want to Start Using the Charity CRM?
One of the things that you need to consider is how fast do you want to start using your CRM. Do you and your staff need training? And do you want assistance with implementation? All of these factors can help you decide on the best migration period. During this time, you can accurately determine how easy/hard the system is to use.
Best CRM for Charity Organisations
The success of non-profit organisations lay in its ability to build support, retain existing donors, and manage projects efficiently. This, in a nutshell, is what a CRM system helps you do. Below, we have listed the top charity CRM solutions to consider when choosing one for your organisation.
There are two types of charity CRM softwares; one that requires payment and another that is available for free:
Paid Charity CRM Software
Here are some CRM systems suitable for charities and non-profit organisations. Some of these systems are developed only for charities while others can be adapted to suit charitable organisations.
Microsoft Dynamics 365 for Non-Profit
Microsoft Dynamics 365 is a giant CRM system that serves around 40,000 companies and 4.4 million users worldwide. The system has an intuitive layout that many users are familiar with.
This popular CRM is an all-in-one solution. It tracks fundraising goals easily, automates financial operations for non-profits of all sizes, and follows up the charity program delivery and its impact. The system also manages Gift Aid declarations and preferences.
Besides catering for constituents engagement like most CRMs do, Microsoft Dynamics 365 offers its users seamless integration with Microsoft programmes.
With all its pros, the system realistically has a con. Unfortunately, Microsoft Dynamics 365 does not include a free plan or a trial period. This might disencourage organisations to try it, but the system's success stories are everywhere.
As for pricing, prices start at £86.70 per user, per month for Microsoft's basic CRM for charities. Its mid-range price package comes in at £143.27 per user, per month, while an advanced system costs £158.36 per user, per month.
Salesforce for Charity
One of the largest CRM globally, Salesforce, reimagined their system for non-profit organisations. The system offers an all-in-one solution for its users. It comes with a handy, customisable dashboard for tracking donations, measuring the success of your email marketing efforts, and performing deep-dive analytics into donor engagement.
Salesforce for charity has a dedicated project management module. This allows you to efficiently manage all of your charity projects.It also offers a strong integration with social media platforms. Thus, donor trends will be easier to track, giving you the opportunity to follow them and increase funds.
The Salesforce system also includes intuitive reporting and analytics. Such reports and analytics allow you to make informed decisions based on efficient data. However, the Salesforce CRM is one of the most expensive options out there.
To help smaller charities, Salesforce has the programme 'Power of Us' that allows registered charities to apply for 10 free licenses. After that, charities are charged £120 per user, per month.
ThankQ Charity CRM
ThankQ Charity CRM is used by over 1,200 charity organisations in the UK. The CRM is developed solely for charities and is one of the world's leading membership and charity database software providers.
The system offers an all-in-one solution of reporting and analytics tools, as well as a dedicated alumni development module to help you identify and engage potential donors with targeted marketing.
ThankQ Charity CRM has a user-friendly interface that makes it easy to navigate the system. Its format is modular and tailored to each organisation's needs. Most importantly, the system has perfect customer support to ensure that you are never unassisted.
Prices are bespoke, meaning the prices of the system vary according to each organisation's size and needs.
Harlequin CRM for Charity
Harlequin designs CRM, fundraising and accounting software that enables charities to stand out and achieve strategic success. 
Harlequin supports 350 not-for-profit organisations across the UK. It works with healthcare and welfare organisations, faith charities, education establishments, museums and membership associations.
Charitylog
Over 400 charities and non-profit organisations use the Charitylog CRM system. This CRM solution is used to integrate and analyse data, as well as monitor projects. The system is a favorite among small charities in the UK.
Charitylog has excellent analytics and reporting features, providing charities with rich insights about their donations and constituents. Furthermore, it offers secure data-sharing tools for unfettered collaboration.
The system makes campaign tracking and project outcome reporting simple. It also has a top-notch social media integration. However, the downfall of the system is that its customer support is not the best.
The CRM system of Charitylog has fairly affordable prices. It starts at £33 per month, for up to ten users. Modules for managing volunteers and members cost an additional £5 per month each.
HubSpot for Non-Profits
HubSpot was not originally developed for non-profit organisations. However, it can be adopted by charities and non-for-profit organisations. The system is built to get more eyes on the communications you're putting out, and to alert more ears to the work your non-profit is doing.
The system has a free version available for companies to use, and can save up to one million contacts. Moreover, HubSpot has a simple, intuitive, and aesthetically-pleasing interface.
HubSpot's pricing starts at £16.80 per user, per month, for either its sales, marketing, or customer service bundle. However, HubSpot levies a large onboarding fee.
Free Charity CRM Software
Other CRM companies offer their softwares free of charge for charity organisations. Here are just some of them:
Bitrix24
Bitrix24 is a cloud-based, open source CRM system. It is a 100% free non-profit management software. The system offers unlimited user registrations totally free.
CiviCRM
Another option that is completely free is CiviCRM. CiviCRM is a cloud-based, open source CRM solution that is more suitable for larger organisations.
The system offers a customisable dashboard, smooth management of membership and volunteers. It also allows you to identify advocates and grantors as well as manage pledges and contributions.
After listing all of the benefits you could reap from CRM systems, is it time for you to consider adopting one? At ProAptivity, we are a CRM company made up of experienced and educated CRM specialists. Whether it be training, consulting or implementation – we can help get you started with the best CRM solution for you. Contact us today, or request a free trial.