"Consultative selling is an approach that focuses on creating value and building trust with the prospect. It focuses on exploring their needs before offering a solution. The salesperson's first objective is building a relationship; their second is providing the right product."
Recent research by Gallup finds that less than half of customers believe sellers adequately address their problems. This problem stems from a misalignment between the solutions offered (by the seller) and customers' requirements. In order for salespeople to make best use of limited time across numerous interactions, consultative selling is a framework that can be adopted.
Consultative selling equips sellers to uncover customer needs faster and therefore position solutions that are more compelling.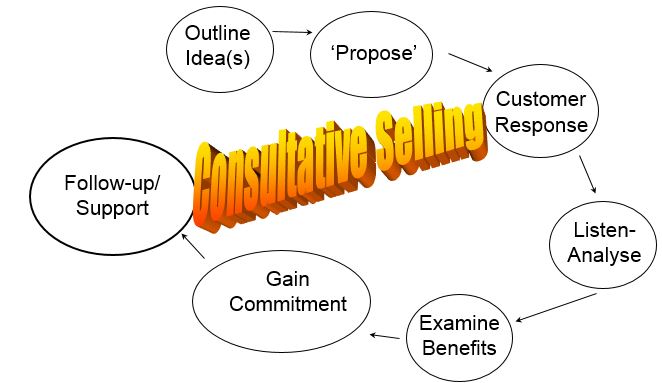 Putting Consultative selling into action requires five key techniques:
1) Balance Questions with Insights
The path to the sale starts by understanding the customer's needs with careful questioning. In a previous blog I looked at SPI questioning framework as one methodology. Remember, great influencers as great questions.
"From the customer's point of view, the greatest need for improvement is in salespeople's knowledge of the customer's business and industry," reports Harvard Business Review. Too often, sellers position solutions that aren't a fit for the customer.
Using SPI questioning methodology helps to build greater client insight.
2) Build Knowledge-Based Trust
Knowledge-based selling builds credibility. Credibility builds trust. One of the greatest source of knowledge-based selling come from our experience and how we relate this experience to addressing the requirements. Knowledge-based selling creates a perception of value in the mind of the client. It elevates and distinguishes a seller over their competitors.
3) Take Ownership of the Conversation
Dialogue is the key to the consultative style. However, sellers still need to guide the conversation. The customer needs to understand they're partnering with someone who can guide them through the complexities of business challenges. Sellers should be prepared to reference examples of relevant work in the customer's arena. The use of value statements and Impact Selling Propositions are vital in communicating the impact your solutions have on your clients.
4) Let Feedback Guide the Process
There's no such thing as bad feedback. Even the strongest customer objections offer an invaluable benefit to the seller. In a previous blog I explored a number of objection handling frameworks.
When a customer articulates objections, they're clarifying their needs and indicating what they want to see to move forward. Therefore, it's important for the seller to carefully consider every piece of feedback. Acknowledge the objections, clarify that you fully understand each objection and explain how you can address each fully.
5) Research Customer Needs and Offer Relevant Findings
By researching potential gaps and needs in advance, sellers can identify opportunities to create differentiated value. Once these differentiators are understood, sellers can map their capabilities to customer needs.
ProAptivity specialise in helping organisations implement sales best practice. Contact ProAptivity today on 028 9099 6388 or via email at info@proaptivity.websitebuild.xyz.